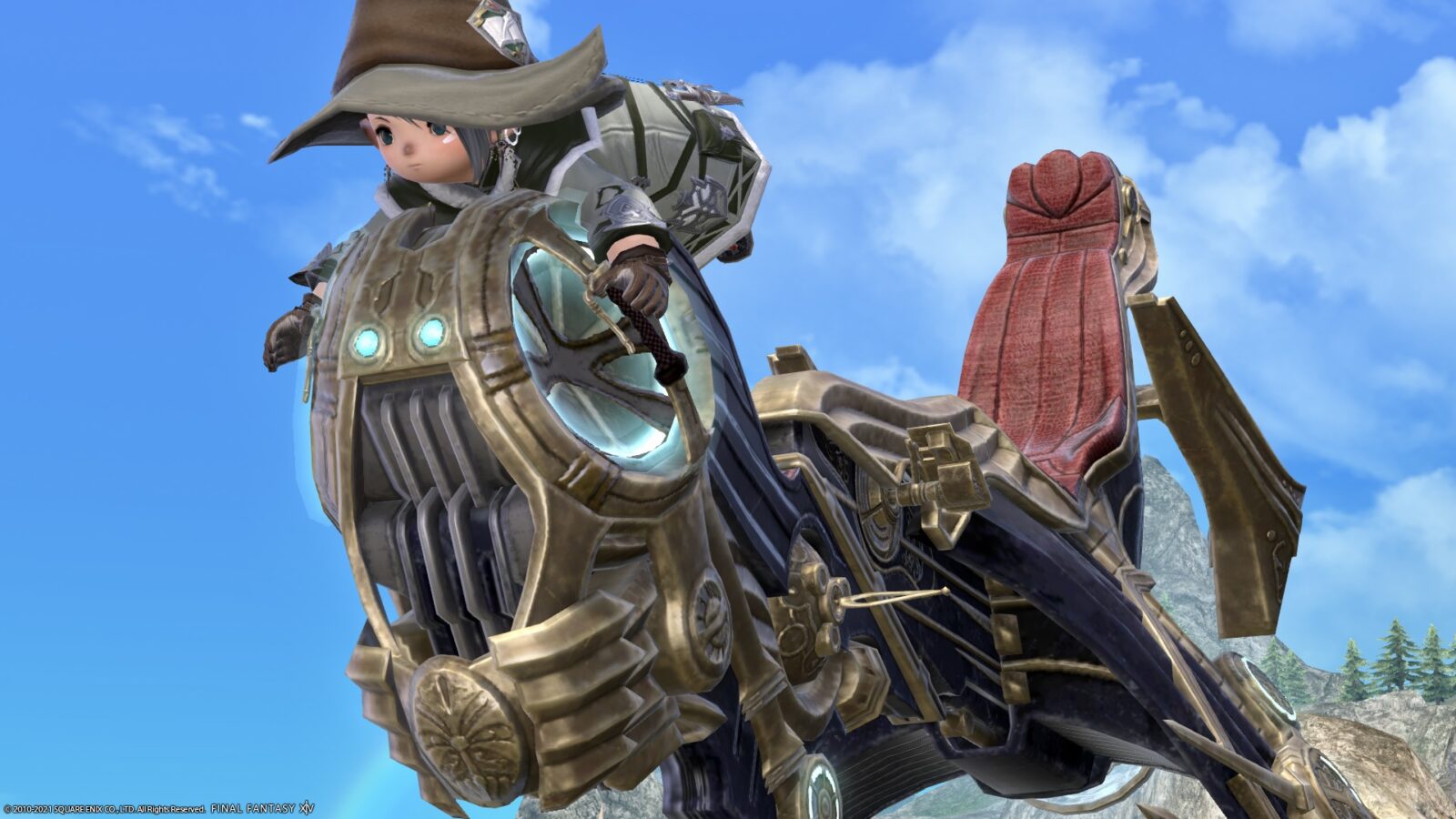 This is a record of the air bike mount "Al-iklil" that appears in FF12.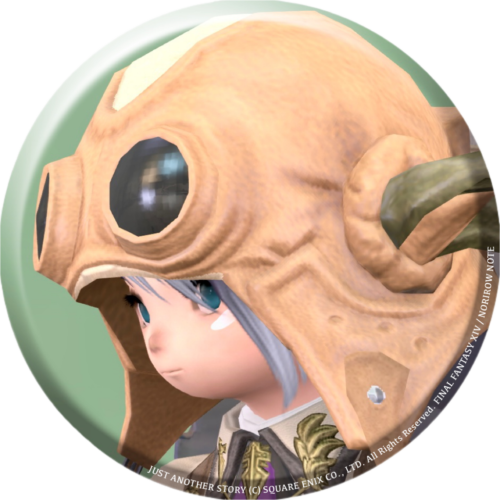 norirow
The one with Fran and Balflear on board!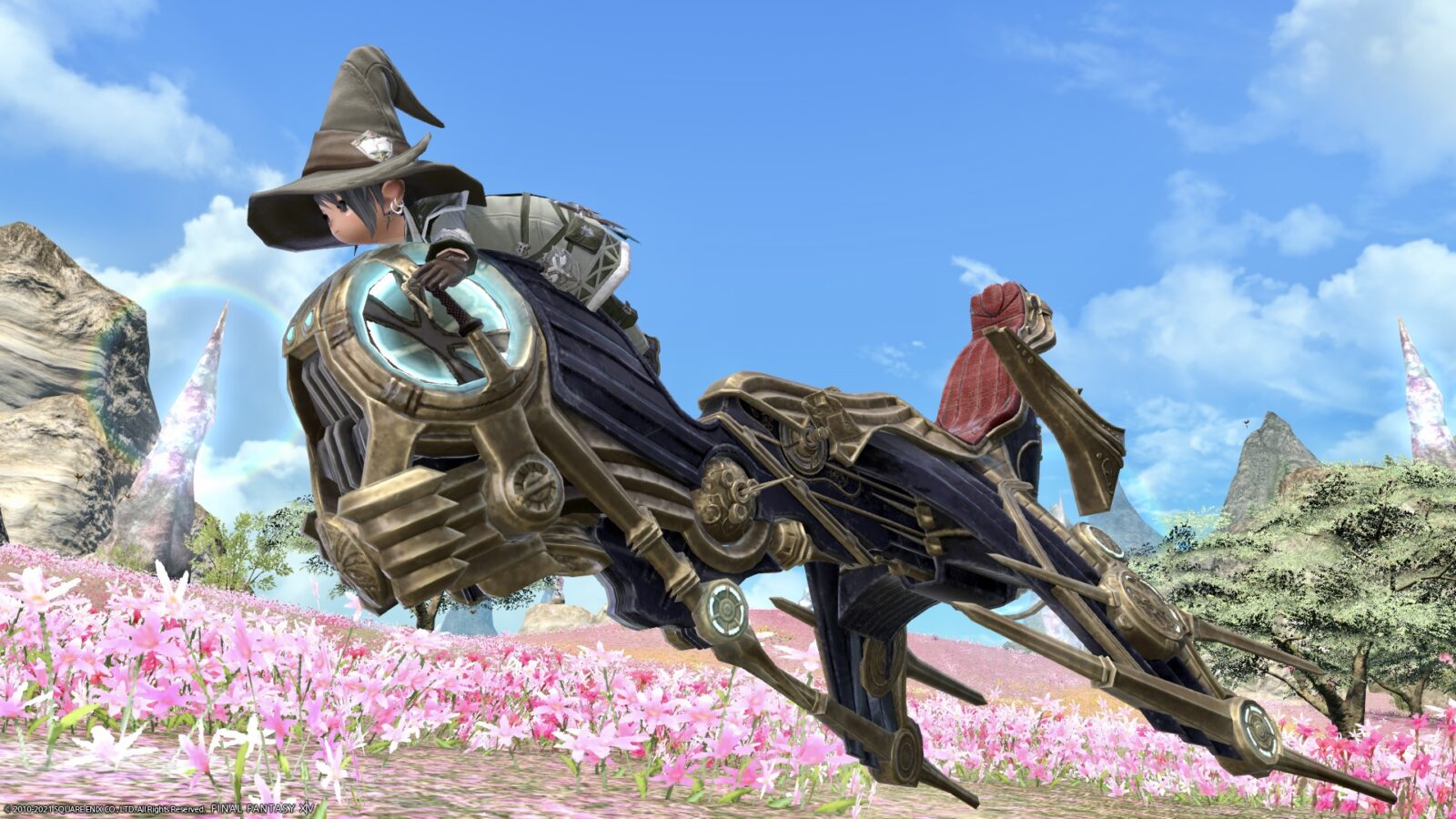 This mount is a two-seater, and the owner rides on the front side.
Norirow-san, it doesn't fit your body … it's an impossible way to ride, right?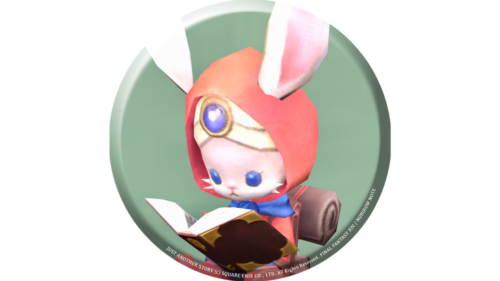 namingway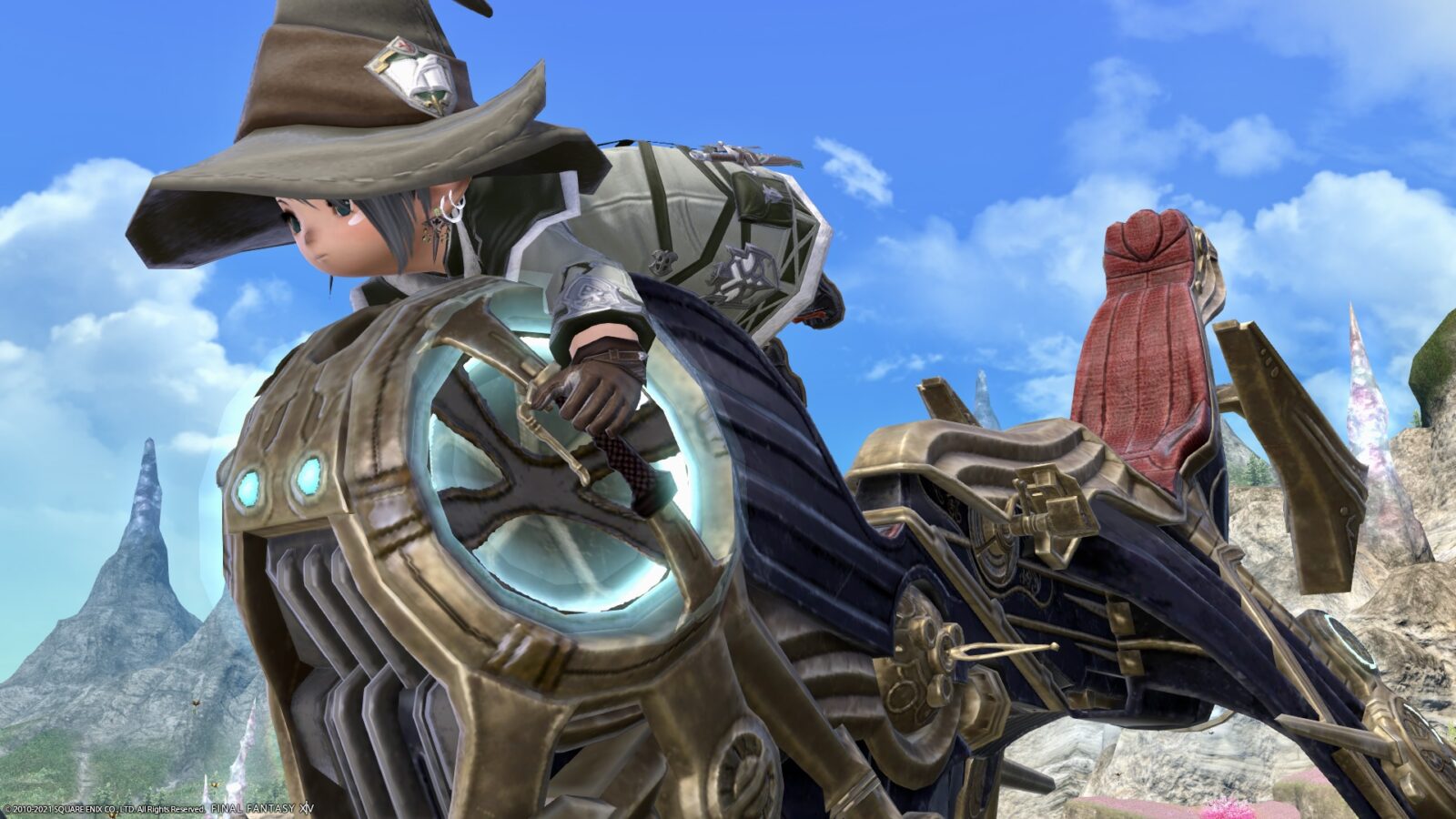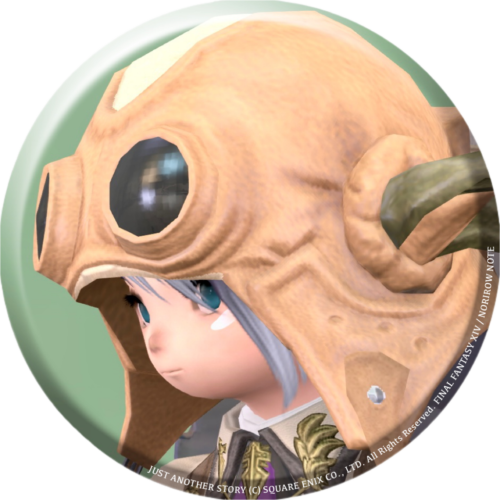 norirow
If you look closely, it seems that the handle part is also equipped with a brake firmly.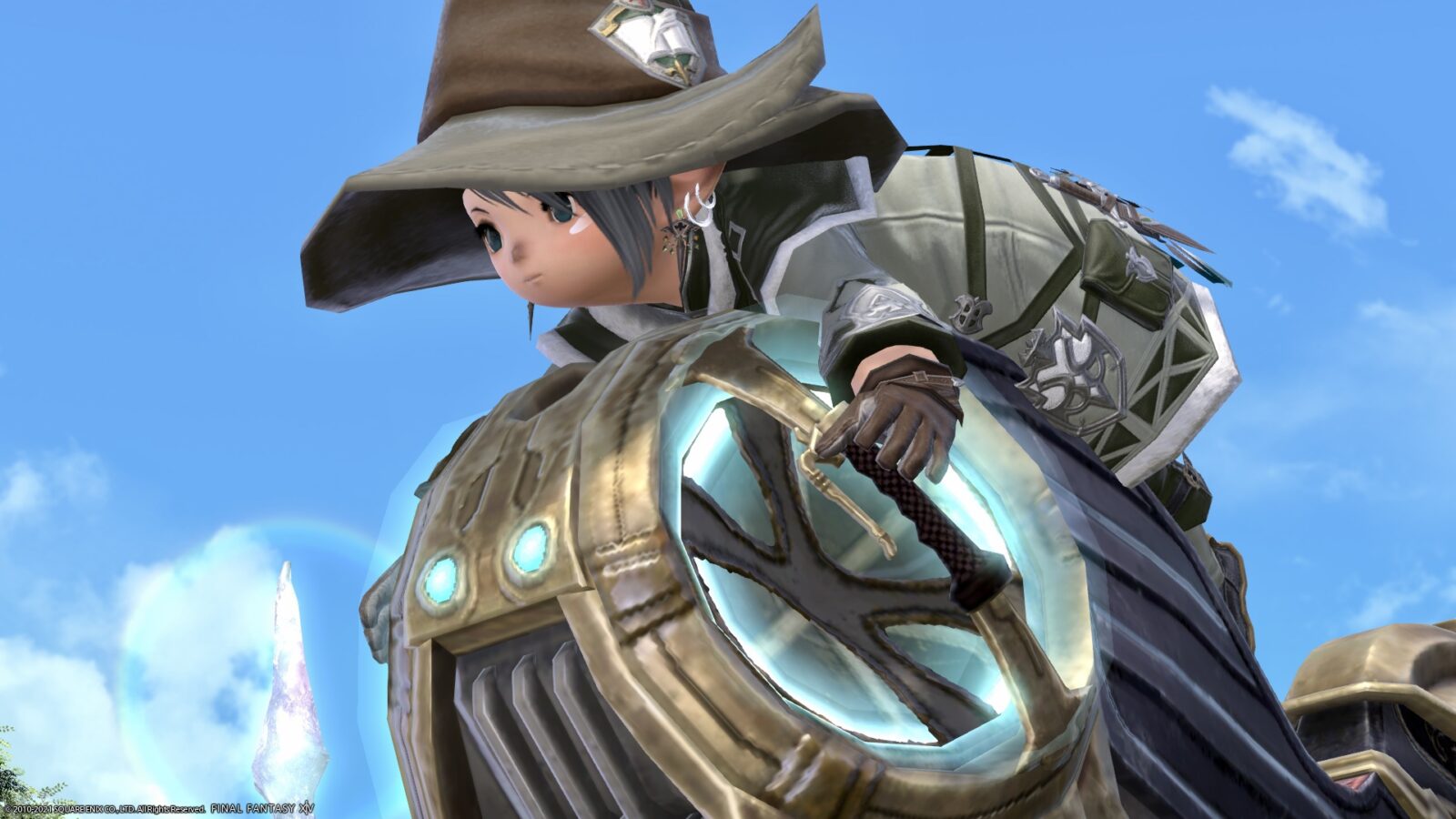 Perhaps there is an engine in front, the blue part around the steering wheel is spinning all the time. I don't think you can see how it rotates in the photo, so please check it out in the video below.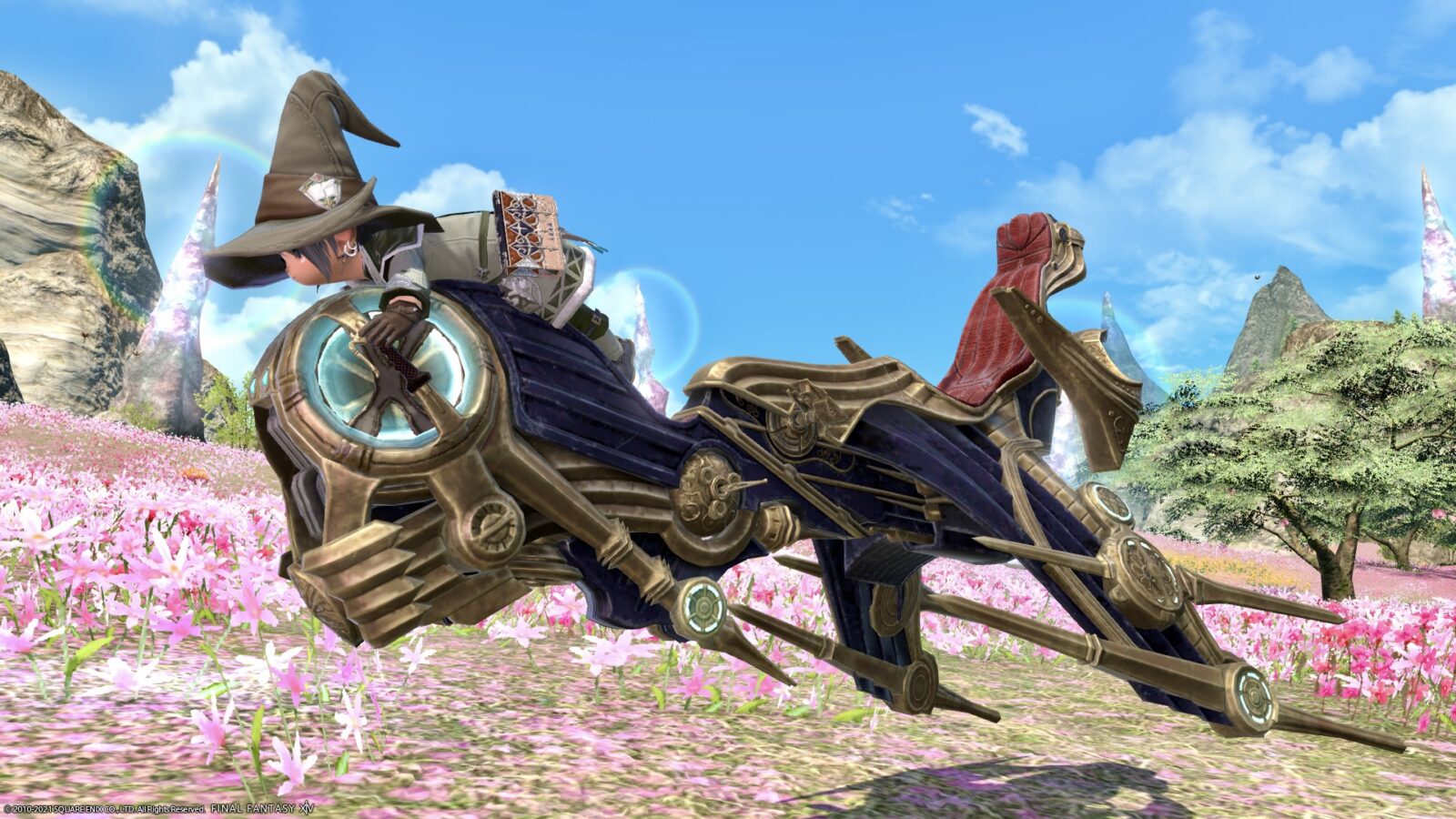 Seen from the front, it looks like a dragonfly.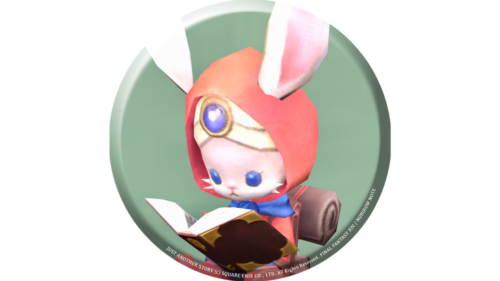 namingway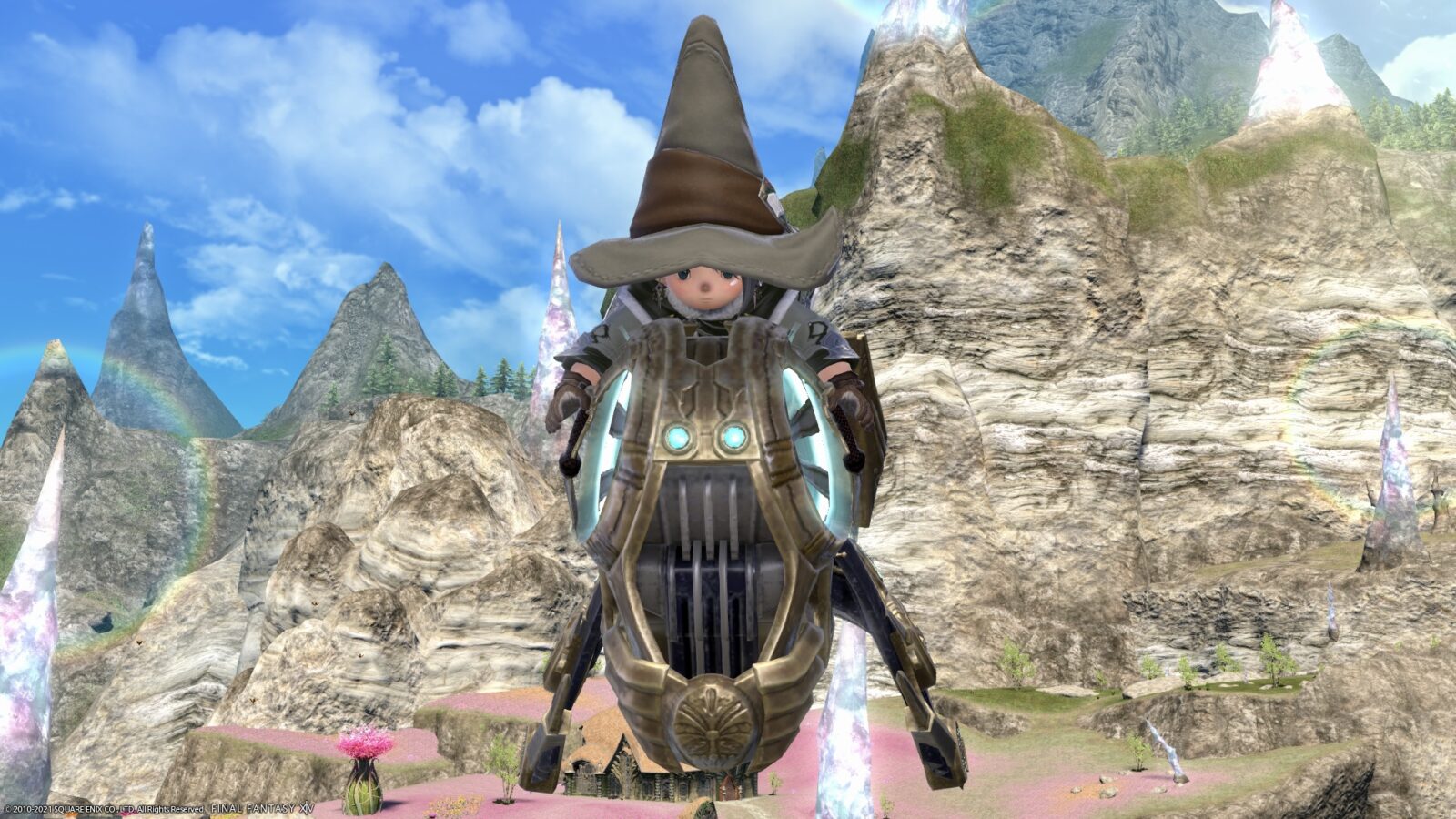 The back is relatively simple.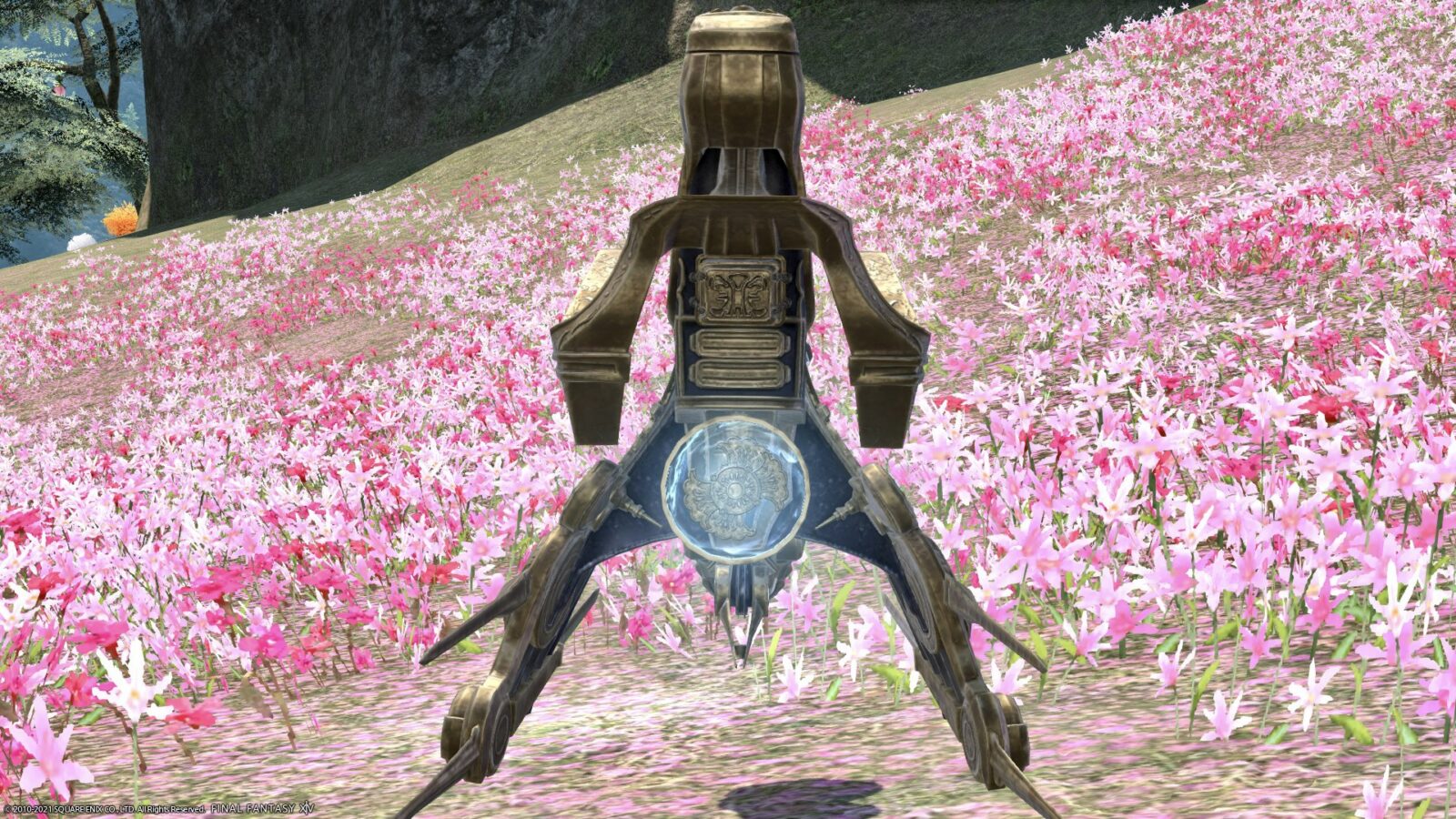 The back seats are spacious.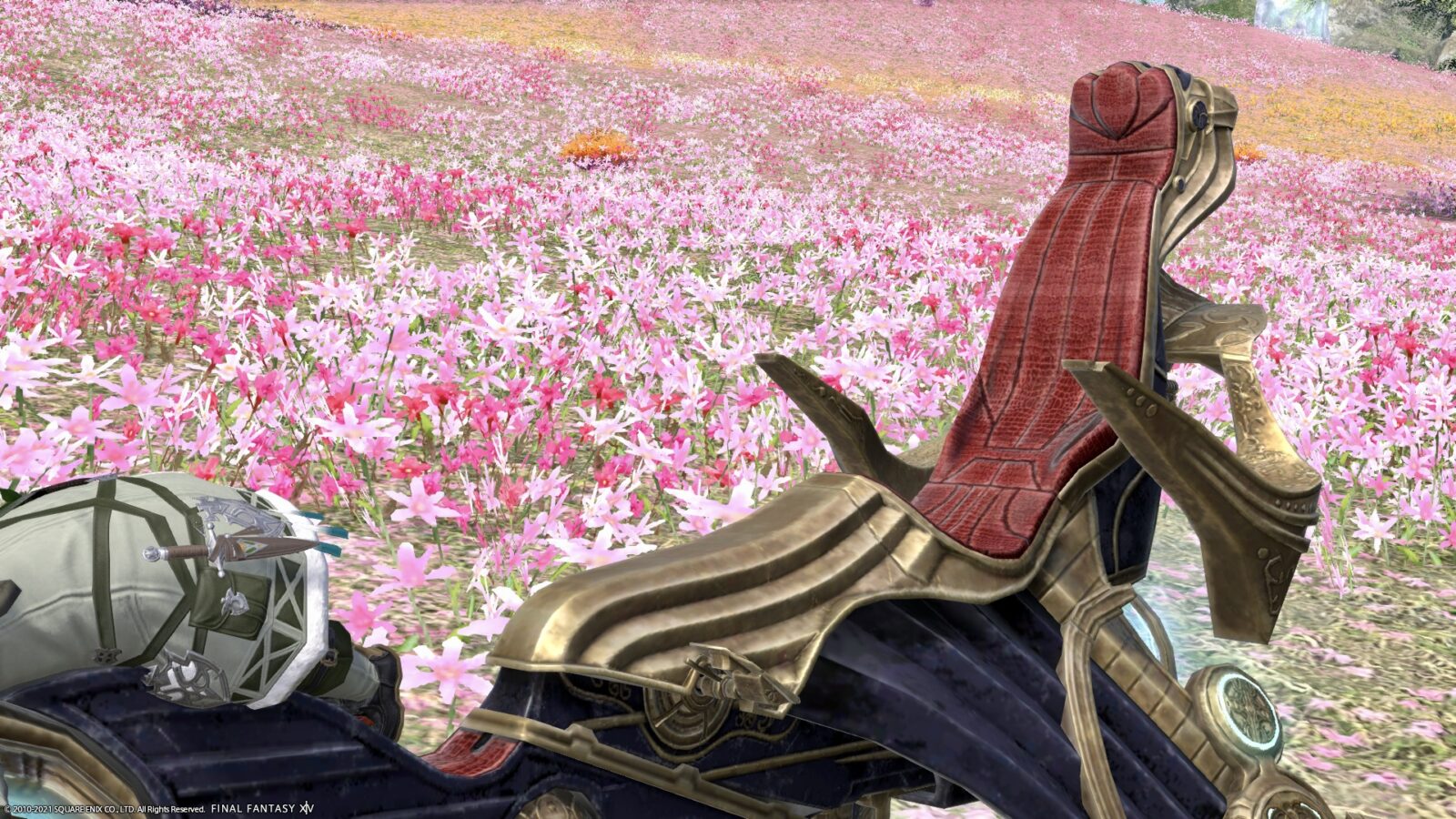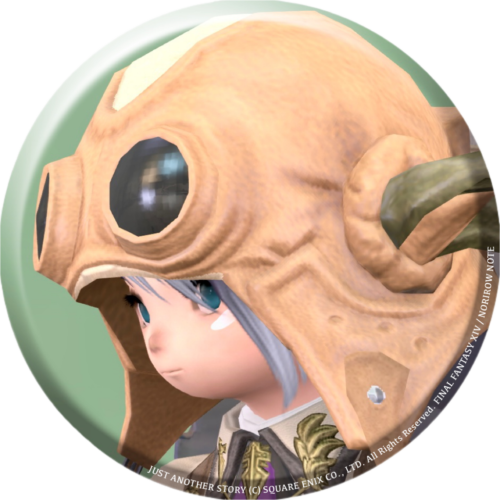 norirow
You can see that the pedal part where you put your feet is also properly made and it is made finely.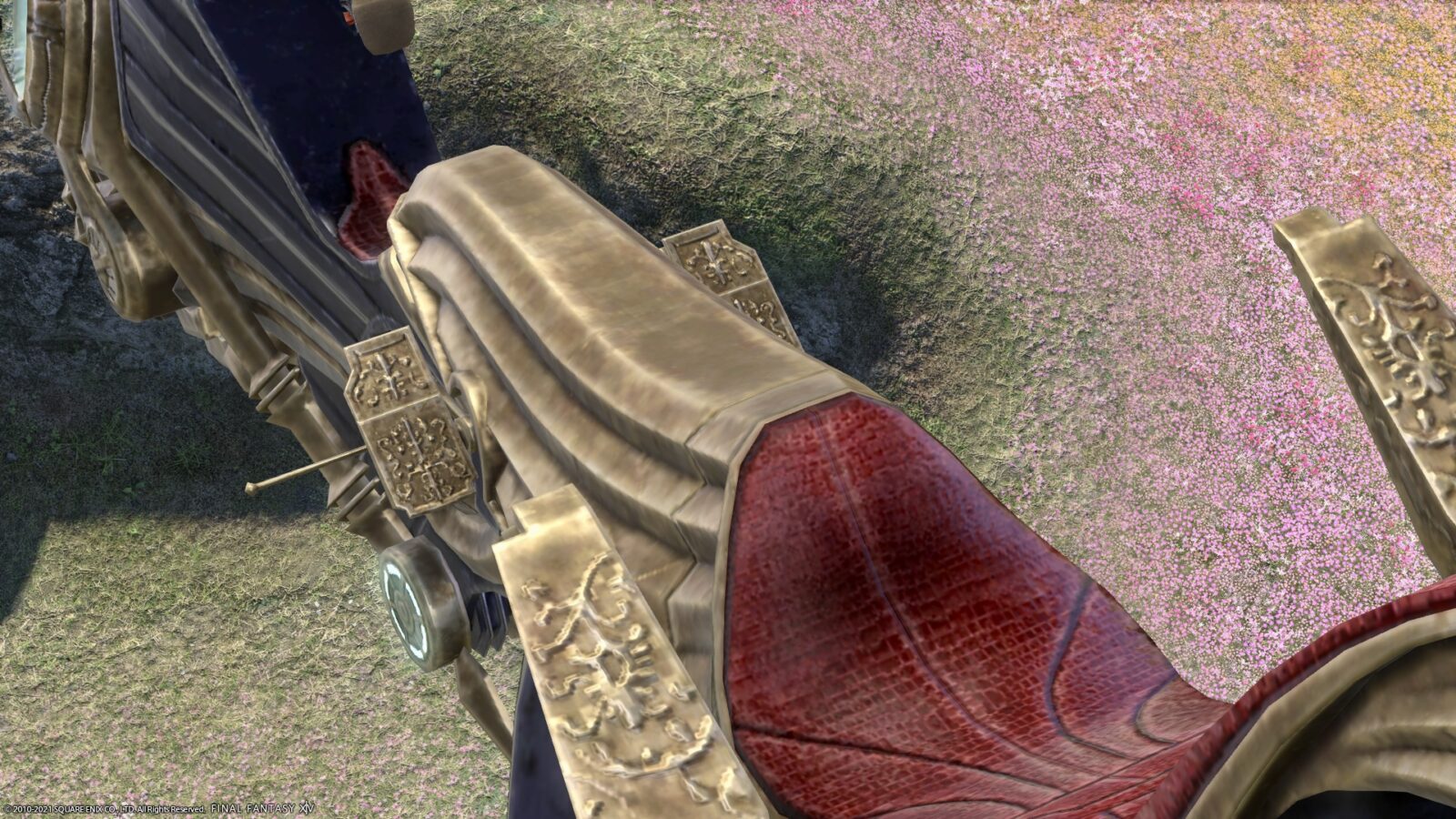 The lower part is quite mechanical.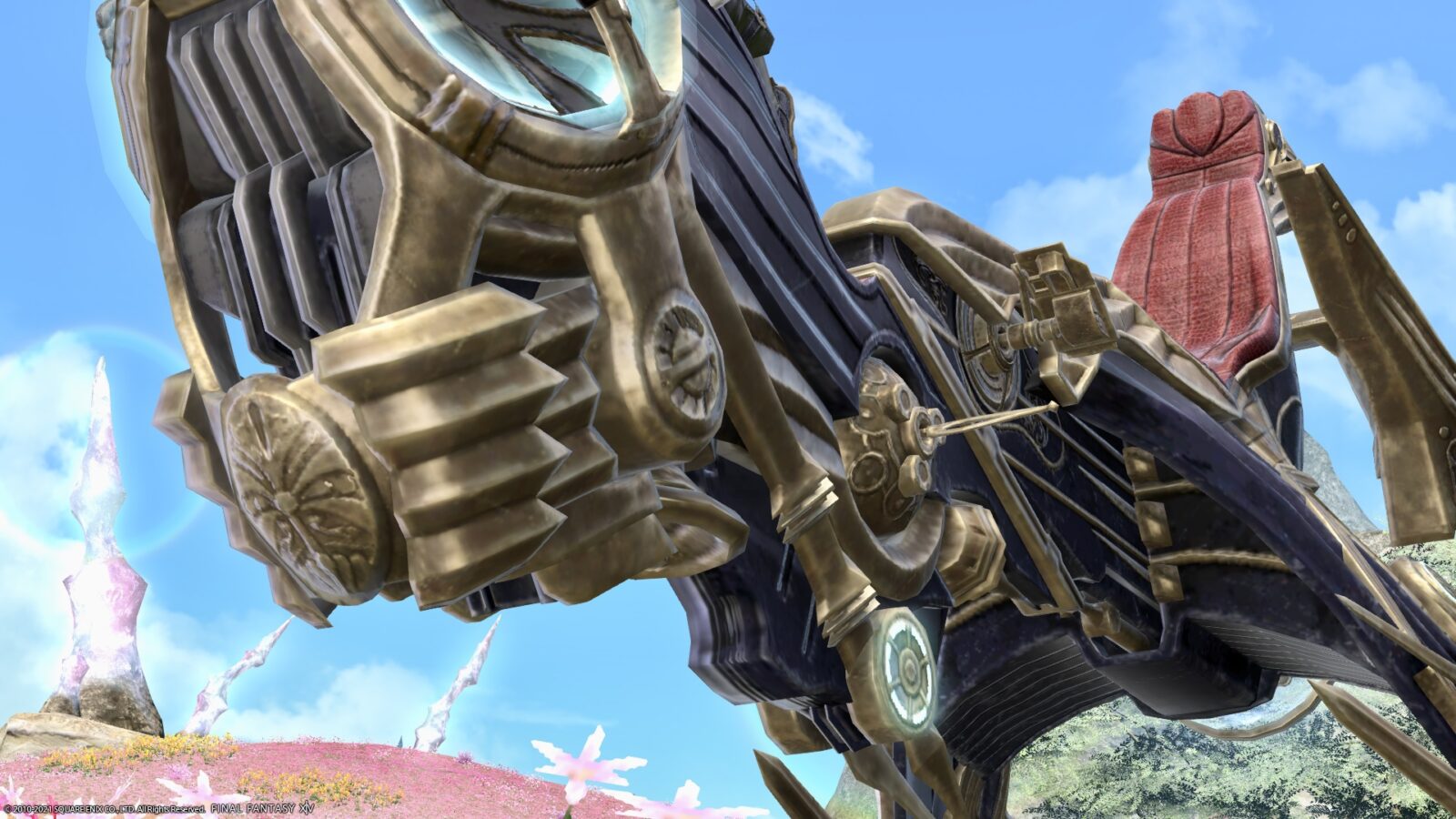 The blue part is shining in some places.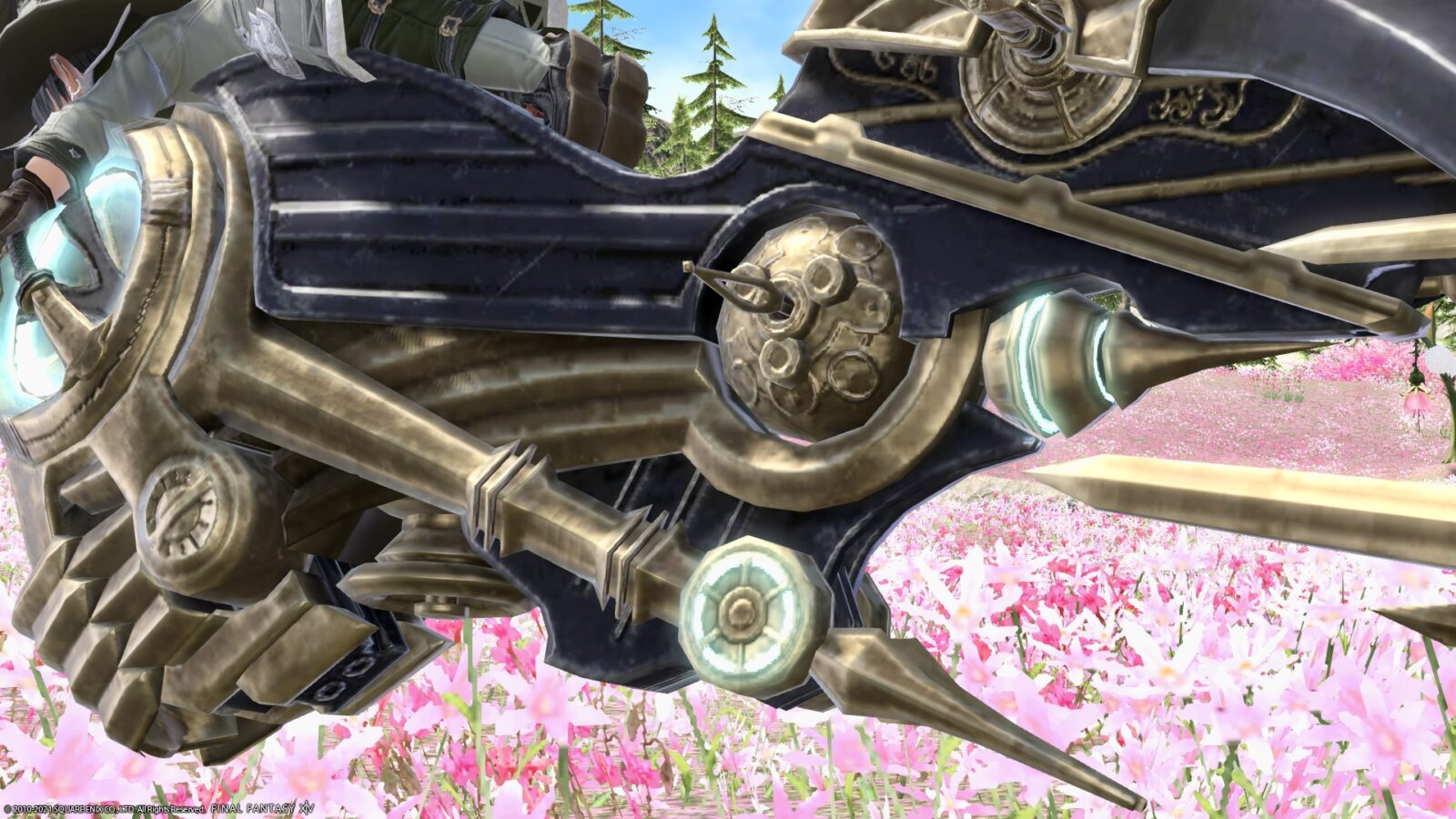 There is a screw propeller at the end, and it is spinning around.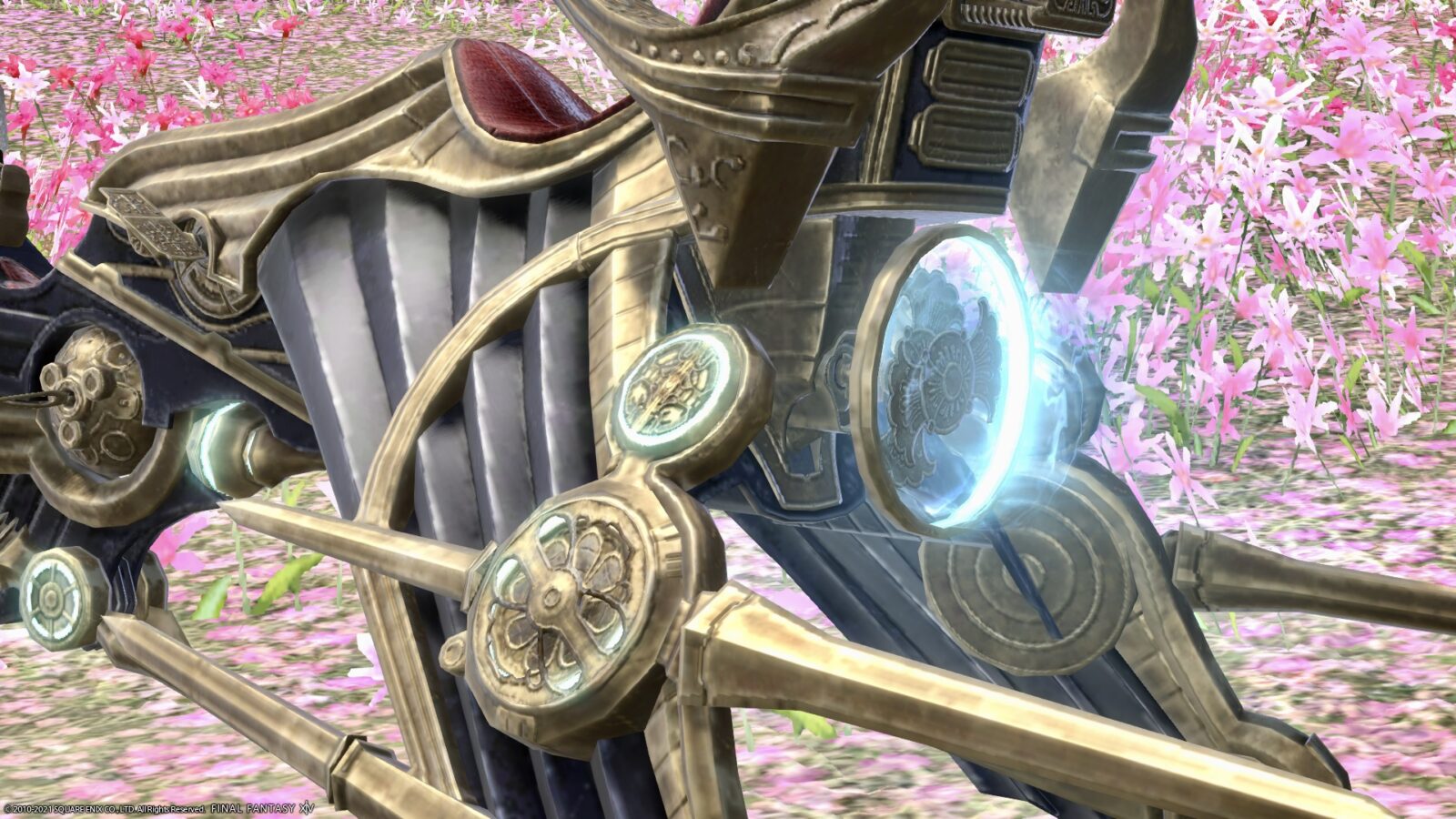 Fashionable propeller design!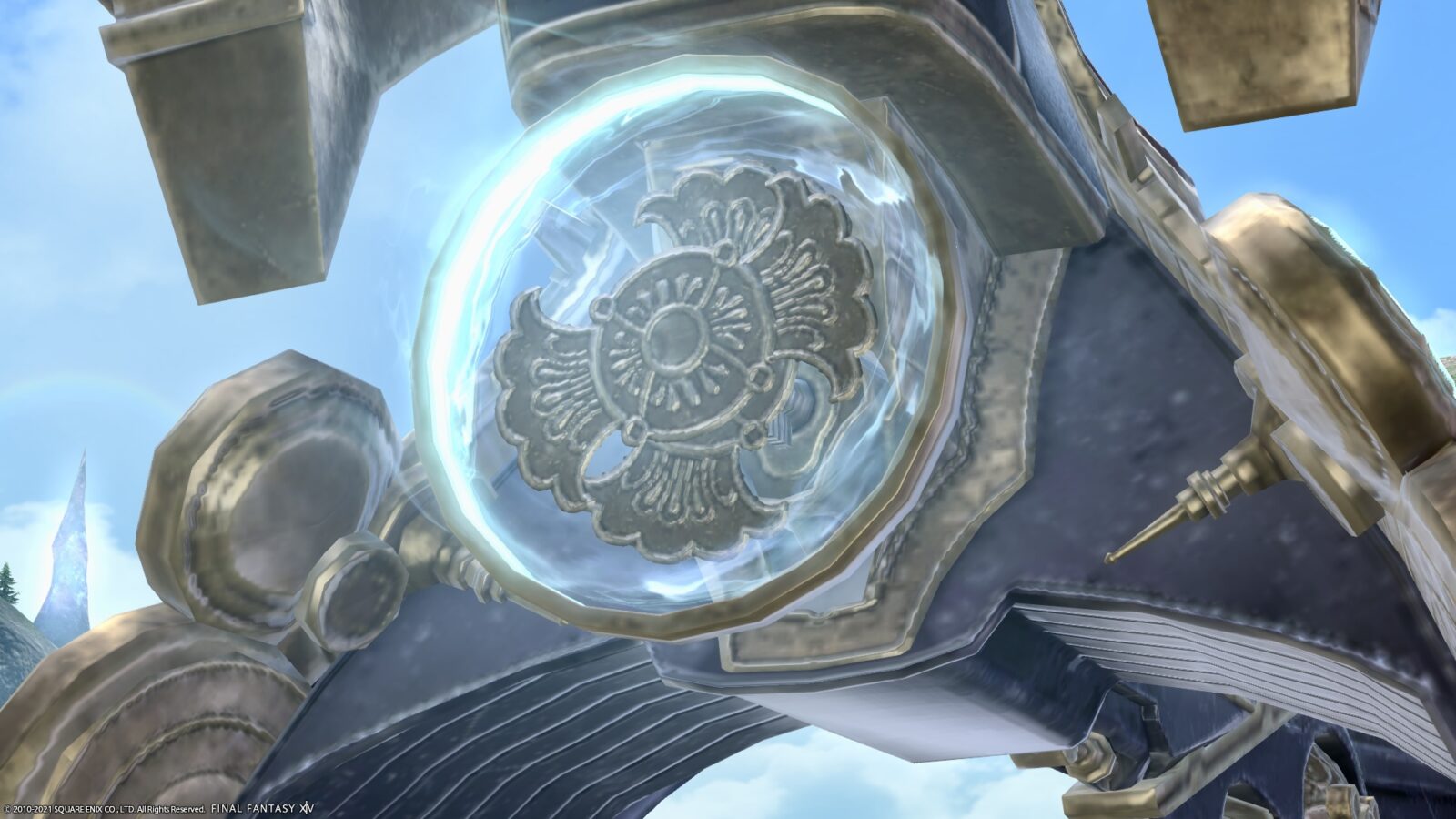 It's kind of like a sled. It would be fun to glide in Coerthas.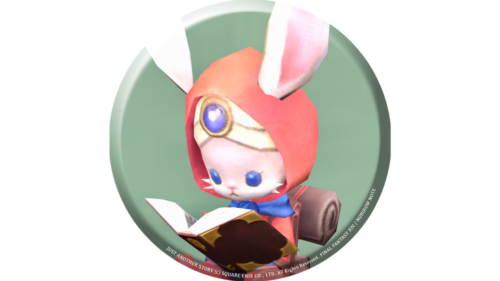 namingway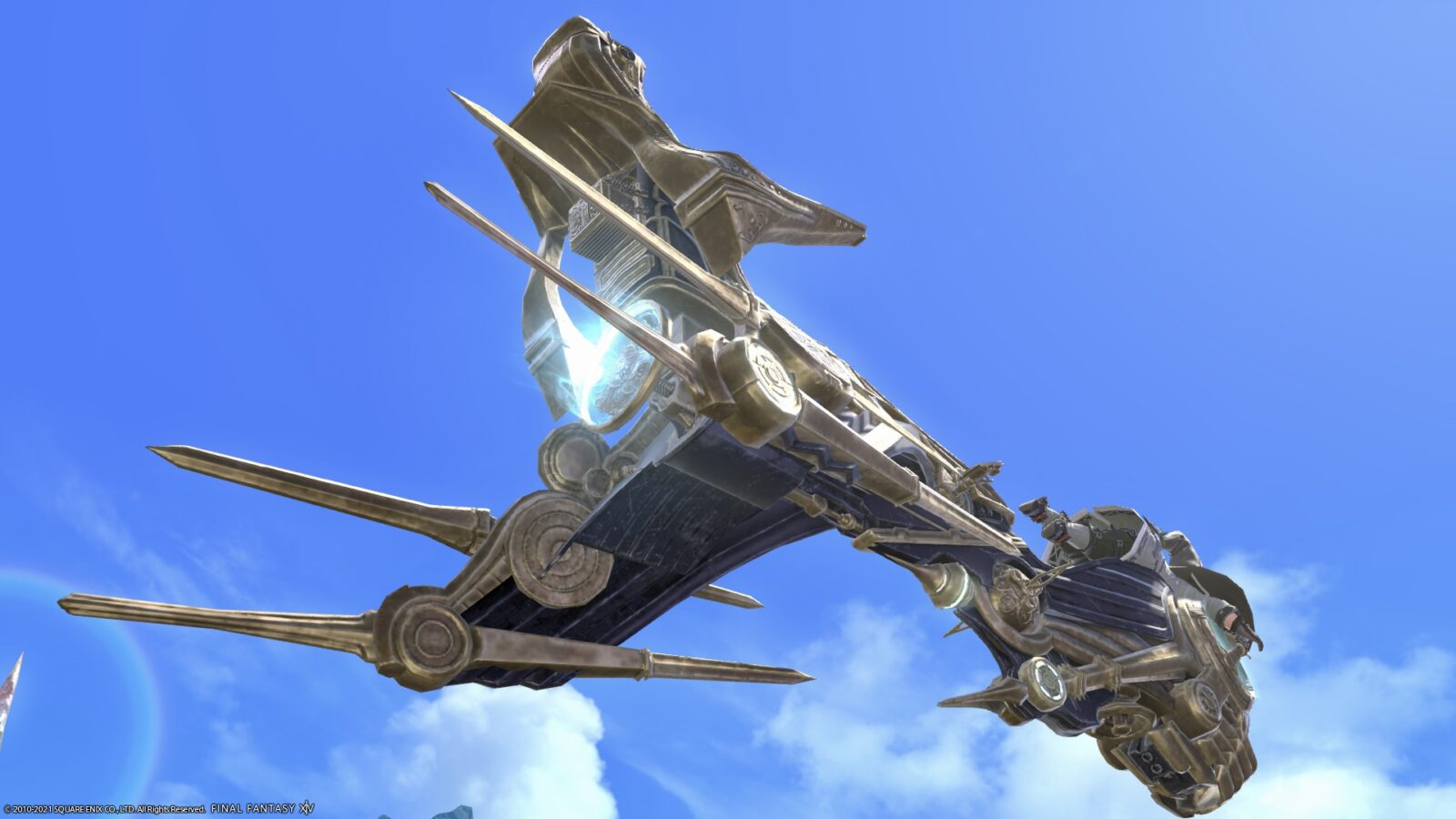 A gift from Fran to the Bozjan Resistance, this craft hovers by the power of skystones, crystals that allow entire masses of land to levitate. Its name is said to be derived from an ancient Ivalician word meaning "crown."

From the official commentary
And when Lalafell tries to drive, it feels like he's barely grabbed …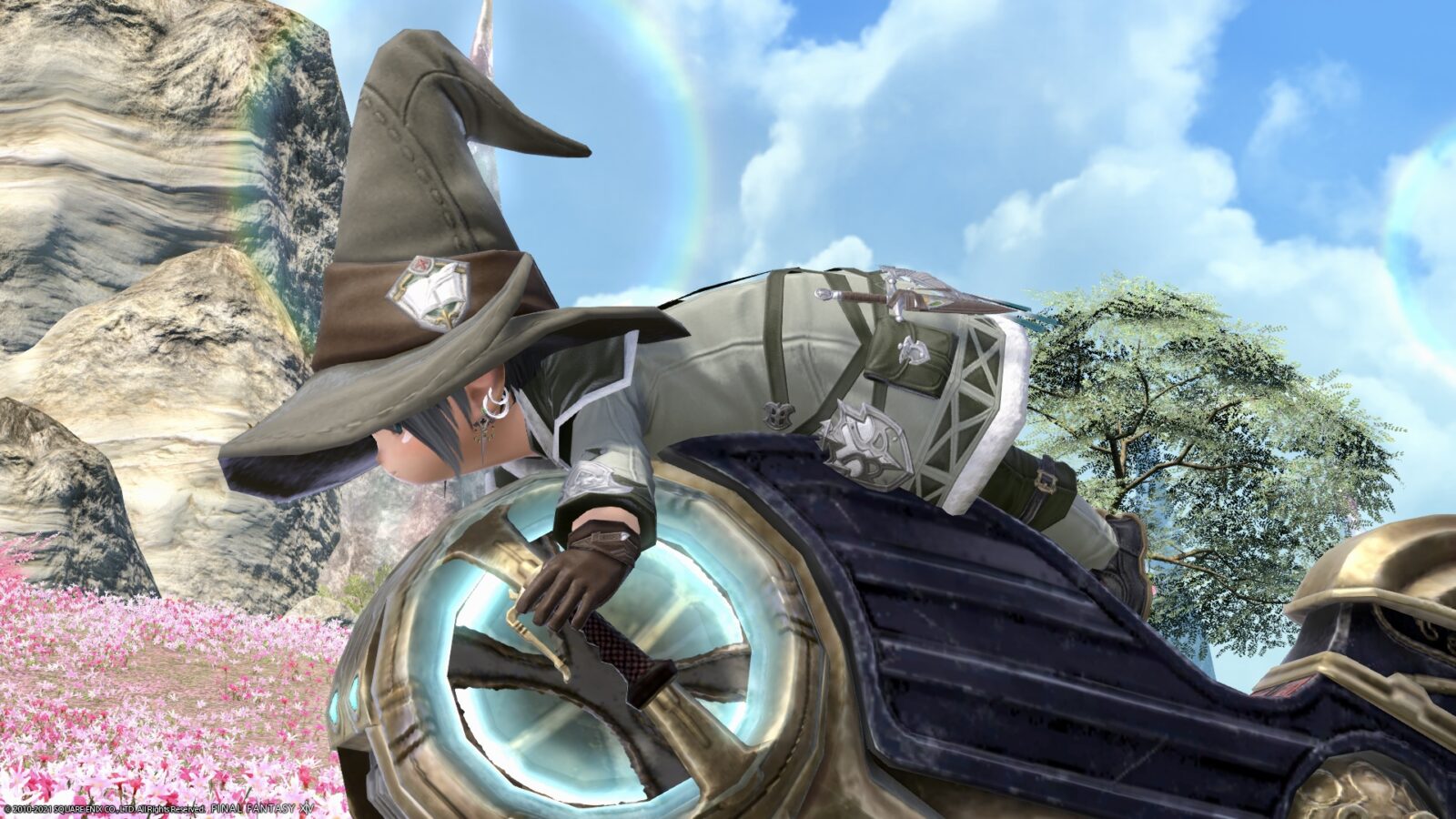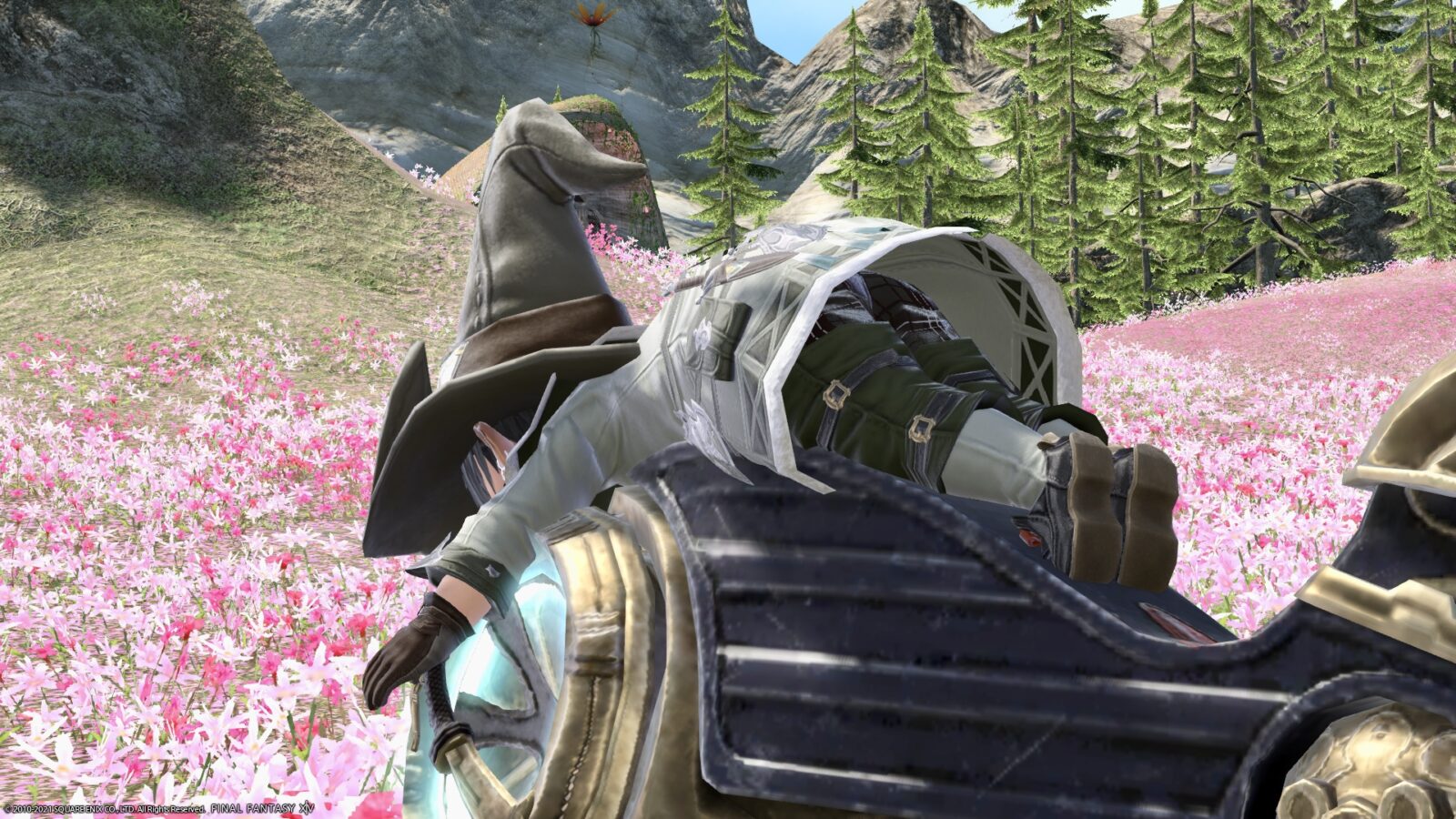 It's a little cute that his legs float when He start running. lol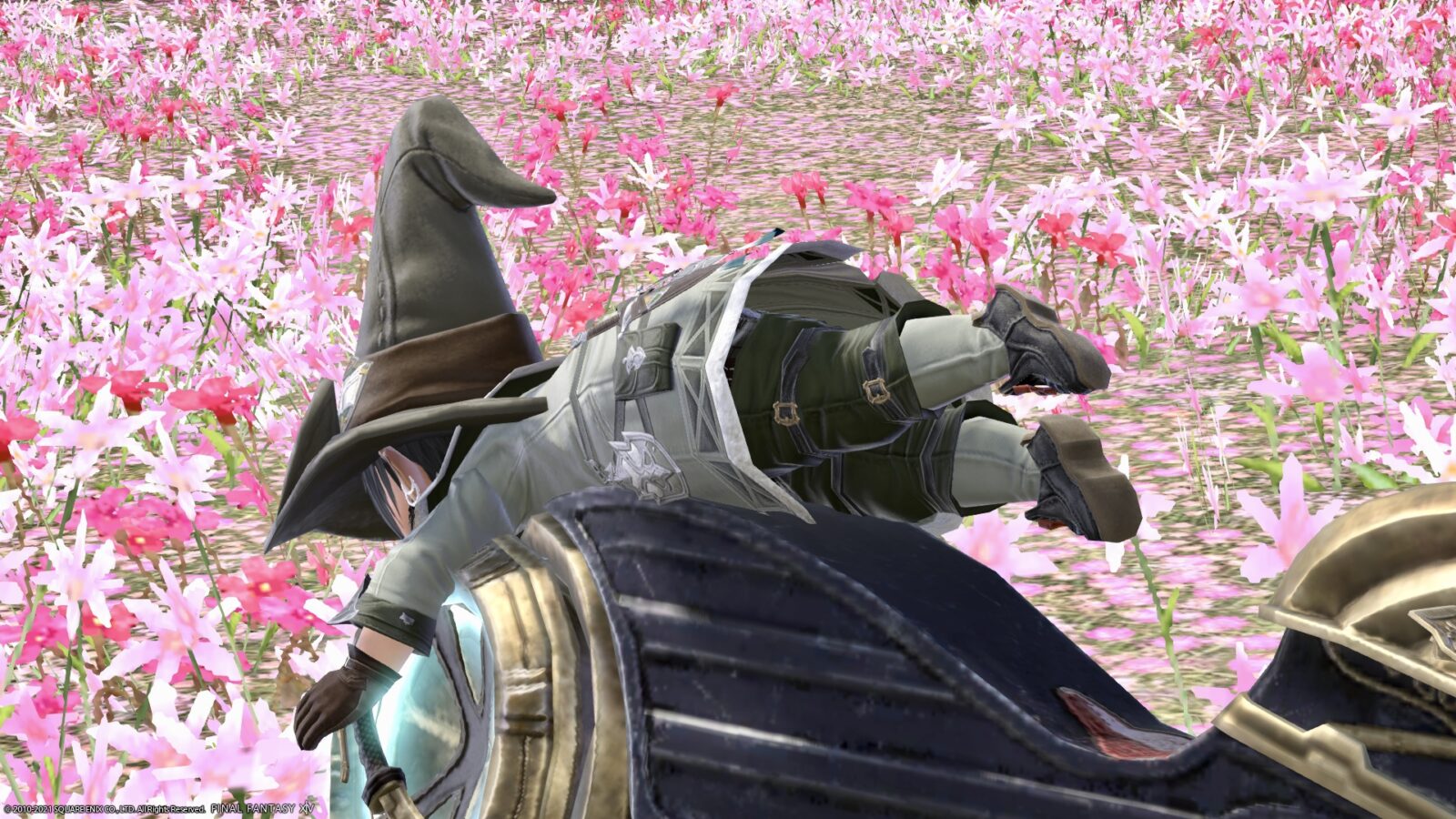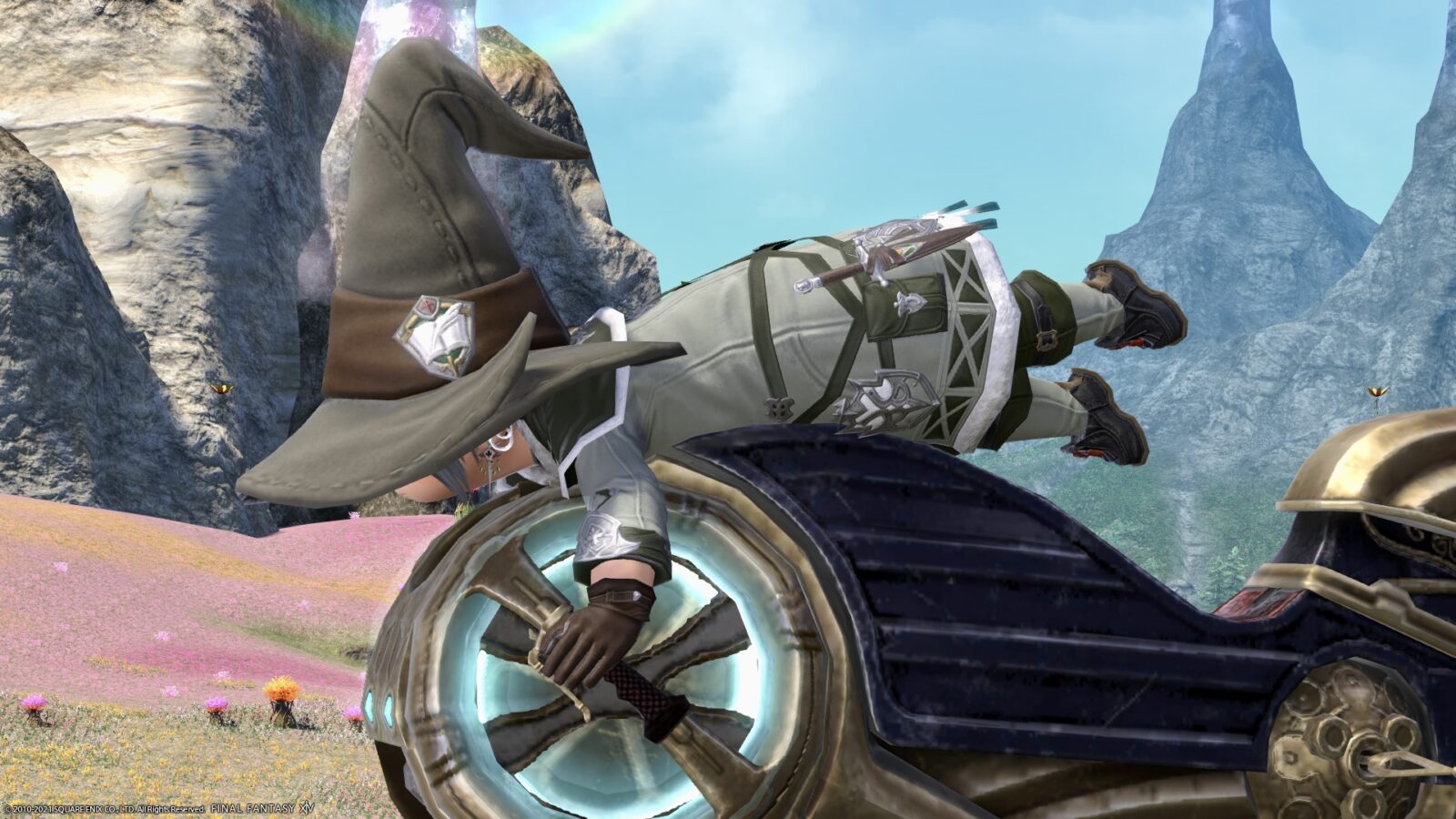 In addition, this mount "Al-iklil" can be obtained by collecting all types of "Field Notes" of The Bozjan Southern Front and the Zadnor.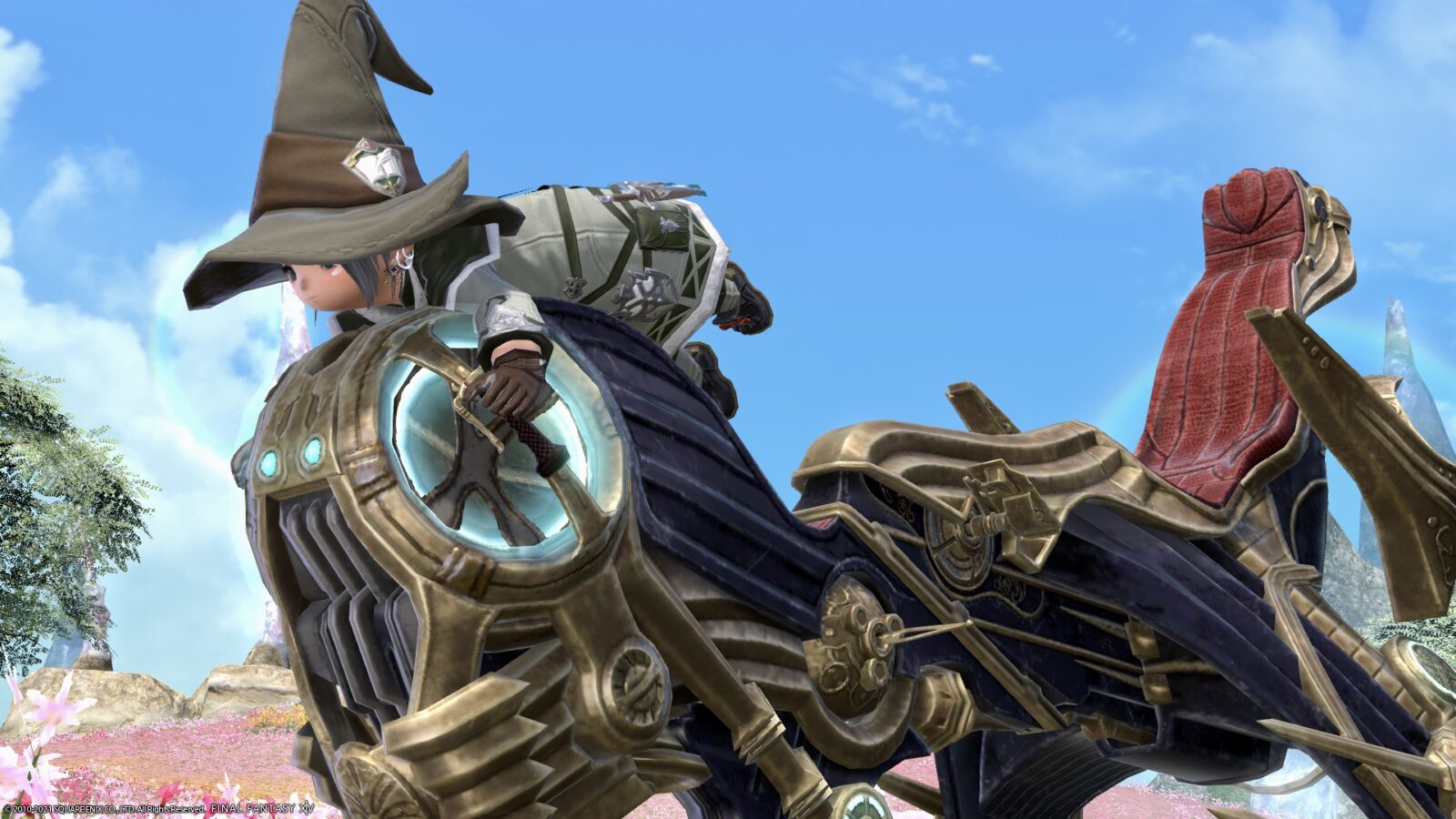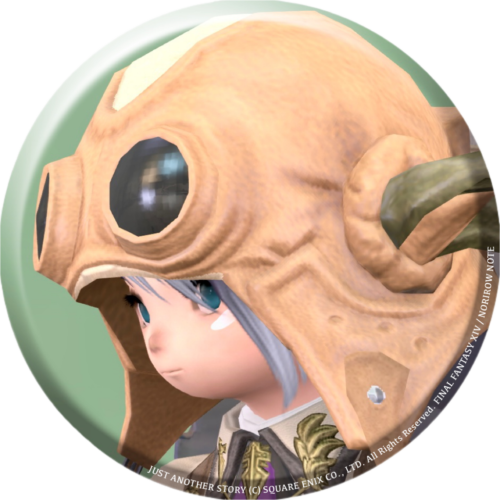 norirow
It was quite difficult to collect this again 💦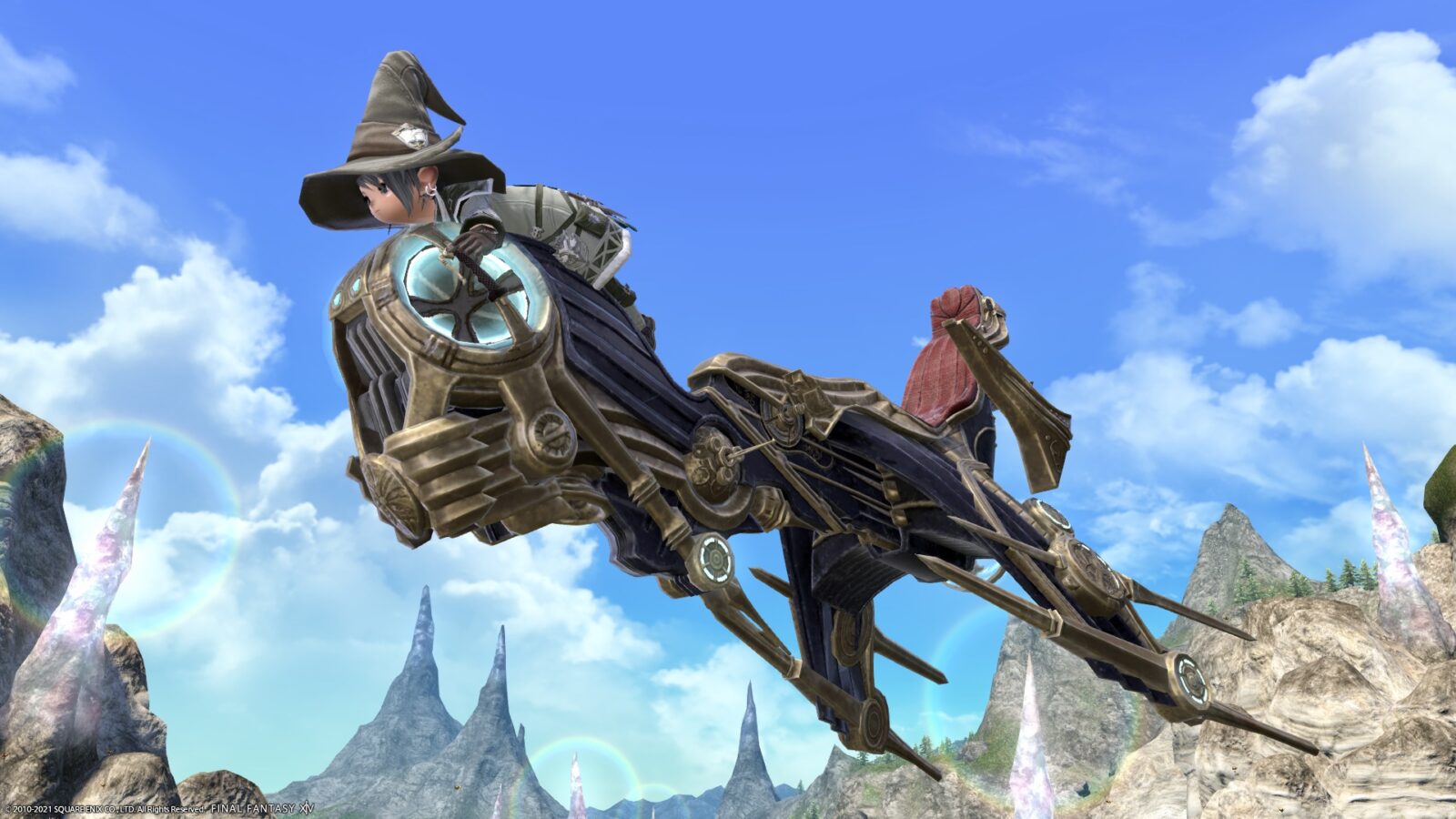 On the way, you even dressed up as a woman. lol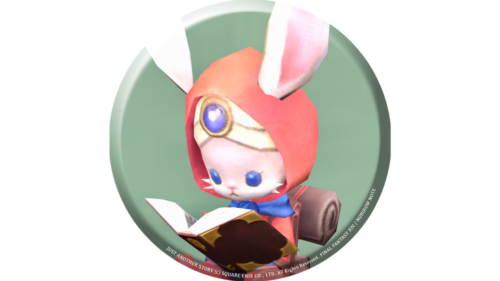 namingway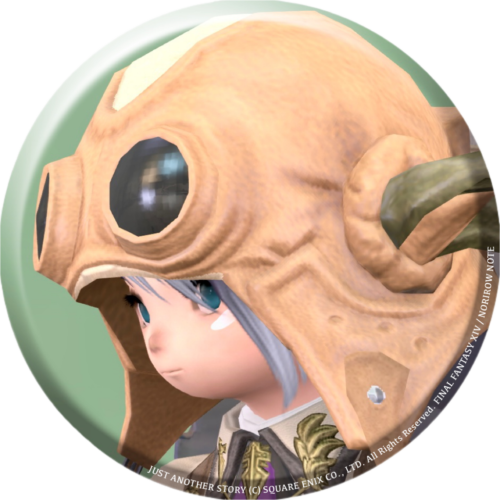 norirow
※ There was also a rare record of Field Notes that did not drop easily, so I was doing various trial operations along the way.
A magical strategy to get "Field Notes" lol
First of all, I couldn't get the number 43 easily, so I bought a mount "Gabriel Mark III" similar to the gold Gabriel who will fight in the corresponding Squamish …
When I saw a friend tweeting that "Field Notes are easy to get if you go in a neat dress", I immediately tried on "High House Bustle" …
Rather than being neat, you're just dressed as a woman.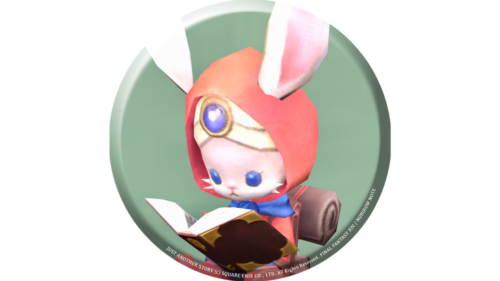 namingway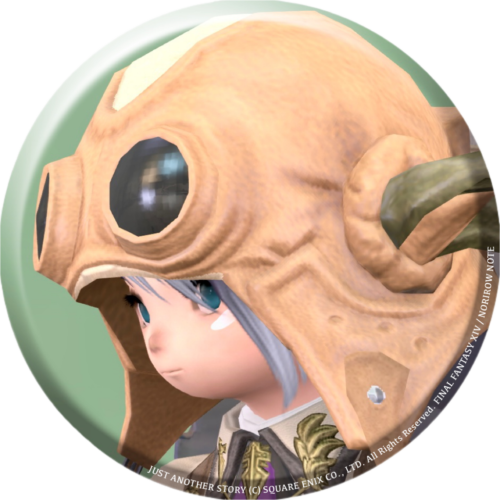 norirow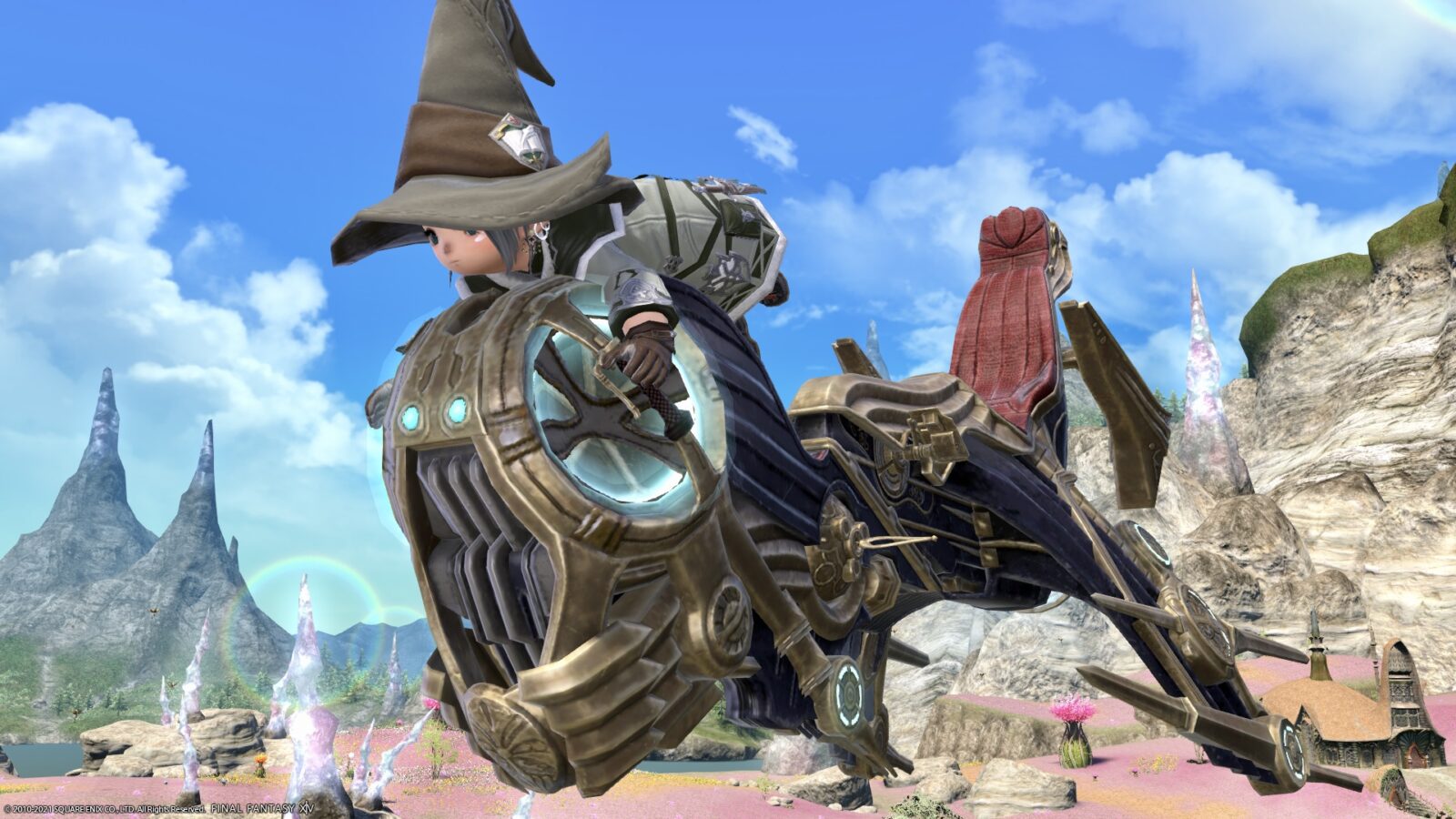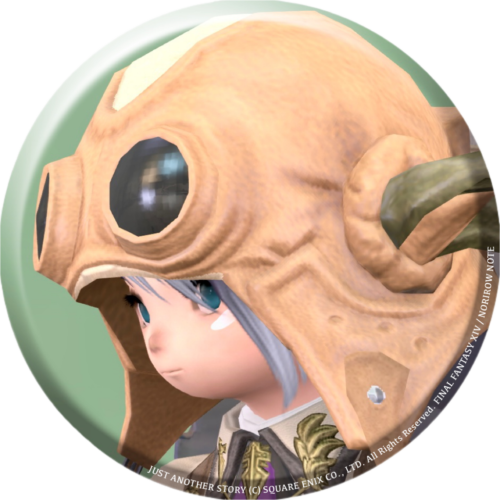 norirow
Well, anyway, I'm glad I got it thanks to the magic 💦
It was easier than the 311 laps of the diamond weapon, wasn't it? lol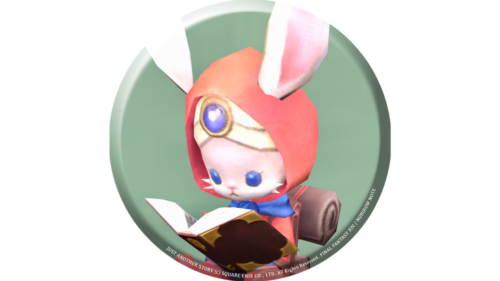 namingway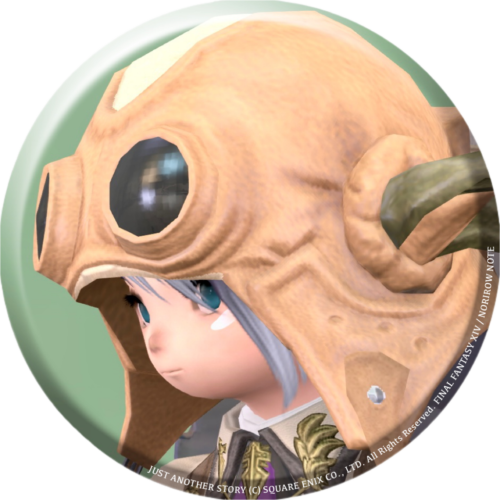 norirow
Well, yeah, not as much as Diamond Weapon … Well, thanks to the time it took, all job levels were complete 💦
※ The Bozjan Southern Front and the Zadnor have a large amount of experience points, so they are ideal for raising the level after Lv71!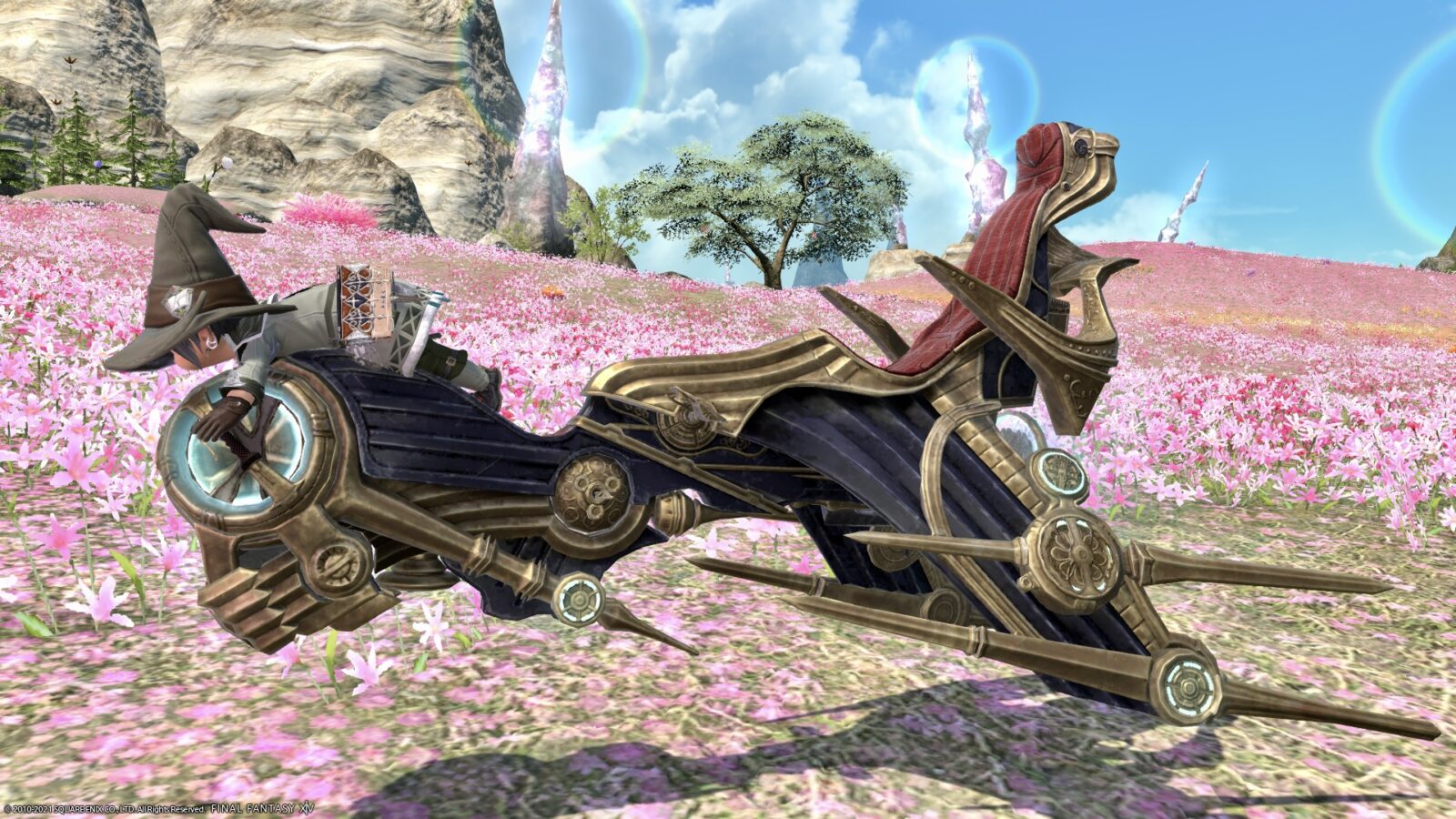 So, it was a record of the FF12 two-seater air bike mount "Al-iklil".
▼ Please check the video for the shining parts and the movement of the mount!
Related records